Toy Train Layout Wiring - Advanced
Some advanced Toy Train wiring involves dealing with electronics or designing your own circuits. These are my successful advanced toy train wiring experiences. I do not have a background in electronics. My professional wiring experience is in 120V-600V AC construction wiring.
More information can be found through the Reference Sources at the bottom of this page.
Component ratings are important since modern O 3 Rail trains run at 18 volts ac at 2 to 10 amps which are higher voltage and amps than most electronics. Relays and switches would be among the effected components.
Upgrade or Replace Manufacturer's Controllers


(Some components may be obsolete and require substitution.)
Control Lionel RC Track with Miniature Toggle Switch
Lionel Track #6-5530 Controlled with Miniature Toggle Switch at Track or Control Panel
The switch on the left is a spst on/off switch. The switch on the right replaces the Lionel RC Track controller with a 3pdt center off switch.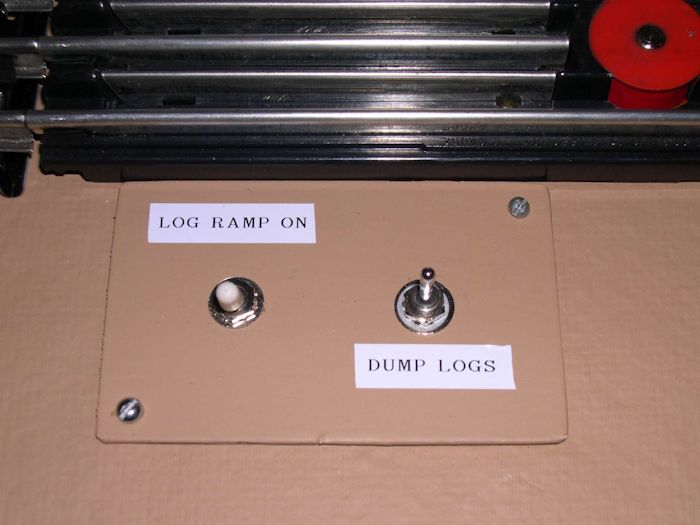 The toggle switches are mounted on painted acrylic plates 1/8" x 2 1/4" x 3 1/2". The plates are attached to the surface with #4 wood screws. The large holes for switch bodies are drilled with spade bits. Switches can also be mounted in plastic project boxes attached to the fascia.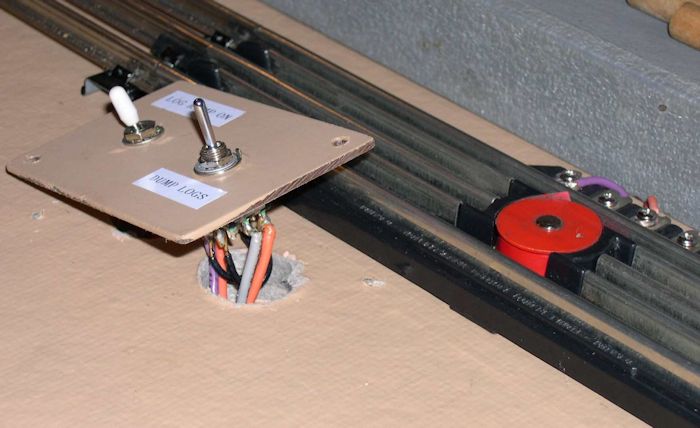 This diagram shows the track powered with accessory power instead of track power.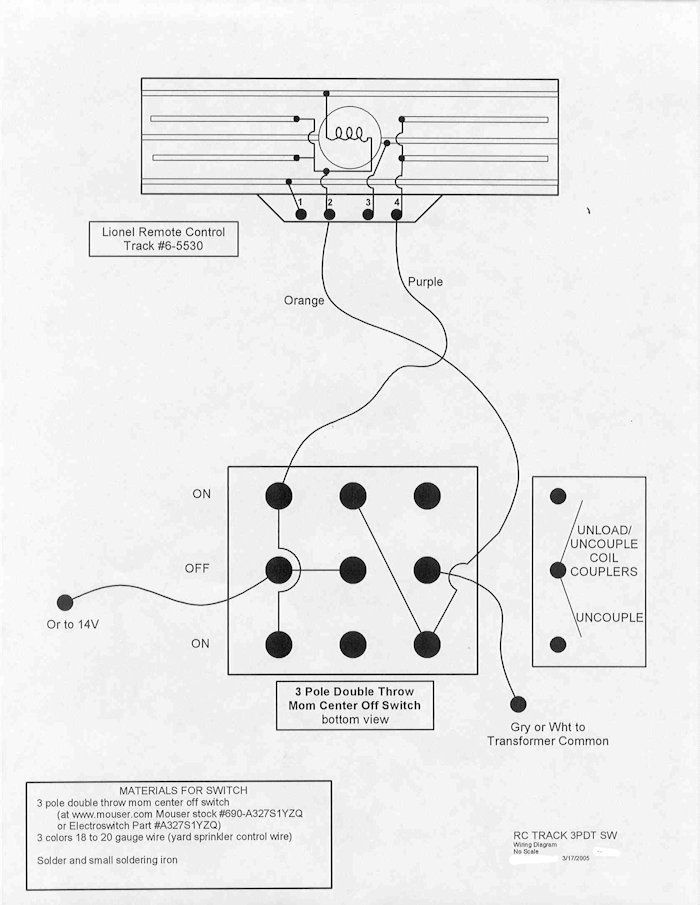 3 Pole Double Throw Momentary Center Off Switch
wired to control Lionel Remote Control Track.
Manufactured Kits Purchased and Installed for Run Room
The following kits are available as of July 2012
Adapt MTH Helicopter Cars to Launch the Helicopter "On The Fly" with the Electric RR Helicopter Car Kit.
(click on photo for complete instructions and tips)
After considering making a constant voltage circuit for engine lighting, I decided buying a kit is a bargain.
This VRS Adjustable Regulated Power Supply (Item #378) $29.95 from Dallee Electronics, Inc. is very good.
Protosound 2.0 Steam or Diesel Conversion Kits
MTH Electric Trains sells a PS2 Upgrade Kit to convert engines with a motor flywheel to Command Mode for enhanced remote control MTH DCS system. The upgrade manual is excellent. Click on MTH # for details.
Generate Wiring Diagrams for Applications
Build an AC to DC Voltage Converter.
This handy tool is kept in the PS2 Upgrade box for testing smoke unit fans, etc. (click photo)
Operate the Mike's Train House (MTH) #20-94022 Reefer with the track power off.
SLSPRR Portable Layout Control Circuits
This layout is wired so that when a train enters the tunnel, the hidden track at the bottom of the photo turns on and the train waiting on that track starts ascending to exit the tunnel that would be toward the top of this photo in line with the track going into the tunnel. A 2 pole 12 VDC magnetic latch relay is used for control.
References Sources (valid July 2012):
An on line search will yield a comprehensive "Table of Electrical Symbols" with the Symbol, Component name, Meaning, and Reference Designator. I found it here http://faculty.irsc.edu/faculty/cpanayiotou/COURSES/Electronic%20Design%20Software%20Tools/ExpressSCH%20and%20PCB%20Guides/Electronic%20Component%20Symbols/electrical_symbols__electronic.htm

Many circuits with varying degrees of difficulty can be found on line.

Here is an ad free site, "All About Circuits" http://www.allaboutcircuits.com/
"Welcome to All About Circuits! This site provides a series of online textbooks covering electricity and electronics. The information provided is great for both students and hobbyists who are looking to expand their knowledge in this field. These textbooks were written by Tony R. Kuphaldt and released under the Design Science License."
| | |
| --- | --- |
| Question? Contact the SSPRR COO (Chief Operating Officer) using the email button to the right. (If email link is absent, please enable JavaScript.) | |