MTH PS2 Upgrades
MTH Electric Trains sells a PS2 Upgrade Kit to convert engines with a motor flywheel to Command Mode for enhanced remote control.
Disclaimer - Here are the engines I have converted the past few years. My experience and knowledge of electronics is severely limited and I depend on the Kit Manual extensively. All my conversions have been successful so the kit must be excellent. Additional notes to the Kit Manual are included when available.
Tips - See helpful information for all Upgrades below.
First MTH Engine
MTH 20-2082-1 (1995) UP FM H-10-44 Diesel w PS1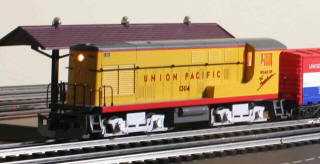 This was the first MTH purchase added to the Run Room. Considering the value of the engine, it wasn't worth upgrading to PS2, but sentimental value entered into the equation and I went ahead and upgraded to PS2. Click on photo to see upgrade photos.
Step by Step Conversions
MTH 20-2151-1 (1998) AT&SF F3 AA Set with added 20-2151-4 powered B unit
MTH 20-2214 (2000) Union Pacific #80 Coal Turbine
MTH 20-3021-1 (1997) UP Big Boy and MTH 20-3025-1 (1998) SP AC-6 Cab Forward
TIPS for all Engines
This MTH website should be consulted for the latest information. DCS News Note the DCS Loader information for downloading sound files. (A Windows Vista computer will NOT install sound files without the msvbvm50.dll file.)
The Downloader gives you estimated programming time. Double that time when using a pre-TIU REV.L with the MCT Corp. USB to RS232 adapter (with the latest driver).
The upgrade kit instruction book is black and white. It's very helpful to download the color copy from the mthtrains.com website. At mthtrains.com click on the Product Search box and enter Item #50-1901 for the Steam Upgrade Kit or Item #50-1902 for the Diesel Upgrade Kit, then click on book symbol for the color copy.