12767 Steam Clean And Wheel Grind Shop
Replacing Lionel's Control Box - Option 1
(free hanging receptacles)
This How-To project is shared so a replacement can be made of Lionel's original controller.
Option 1, described here, is the recommended solution.
Lionel made the Steam Clean And Wheel Grind Shop in 1992, 1993, 1995 and the Controller is no longer available from Lionel. When this three part accessory is acquired, the controller may be missing. DC power is required for operation. If any of the sections were operated with AC current they may be damaged. The following Replacement Controller is based on Lionel's Controller.

Lionel's Controller Part #
610-2767-123 Controller Complete

For Instructions, see Lionel's Manual.

Lionel's Controller in use in the
SSPRR Run Room. Lionel shipped the controllers with the white labels ready to apply in the order each of the three parts were installed on the track.
Completed Replacement Controller
Lionel's Original Controller for Pattern

Lionel's box is 4" x 6" x 2" deep.

Inside Lionel's Controller

---------

g

Circuit Board Top and Bottom (print each, flip one side to side, stick together)
Wiring Circuit Diagram of Above
Controller Replacement
For "proof of concept" two controllers were constructed. One replacement was sold and the other is For Sale.
Duplicating Lionel's Box (Option 2) is not advised. Use this Option 1 (free hanging connectors).

The back of the replacement shows Option 2 for DC plugs to the three sections. Option 2 is a Vertical Pin Header Strip from Scratch which is not recommended.
Just drill 3 round holes in the back and use Option 1 which is free hanging connectors.

Replacement Box Bottom
Materials Purchased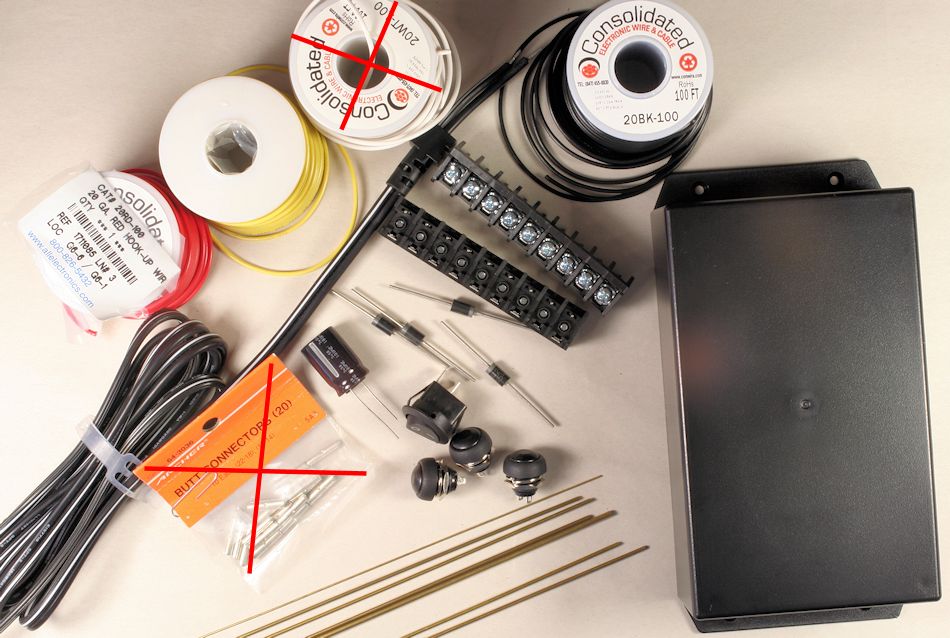 Xs Not Used Replacement box is 6.18" x 3.78" x 2".
1 spst on/off power switch (to fit in round hole)
3 mom sp switches
9-Position Terminal Strip. PC Mount (clip off back prongs)
4 3A 400V standard silicon rectifiers
1 2200 microfarad 25V capacitor
Mouser Part #: 667-ECO-S1EA222BA
Box (Lionel box is 4" x 6" x 2" deep)

Optional PTC Resettable Breaker, click for info
Wirenuts
Hook up Wire
12-14 V AC Power Cord from transformer
Surplus Materials
Polarized free hanging pin and socket connectors, Option 1
Molex parts are shown below.
or Custom Vertical Pin Header Strip (not recommended) Option 2
use 1/16" brass rod and 3/32" brass tubing


---
---
Mark and Drill Holes to Fit Switches and Wires In and Out
Tools
Spring-Impact Center-Marking Punch
1/8" to 1/2" Unibit
3/16" to 7/8" Unibit

Mark hole locations with Punch. Drill starter holes with 1/8" bit.
Use 1 3/8" centers spacing for MOM switches and Option 1 DC wires out of back.

Layout for Top

Arrow shows Back AC Wire entry.
For Option 1 replace slots with 3 DC 3-wire exit holes.
Option 2 assembly is shown here
Size holes for Switches with drill index or calipers. Mark Unibit depth with black marker.
Unibits cut plastic without grabbing.

Wire Rack

Molex Parts and Tools (tools are nice but not needed)
For extraction tool, use metal tubing.
Use other crimp tool or pliers. (buy extra metal crimp sockets)
Polarized Free Hanging Pin and Socket Connectors
Plugs and Receptacles can be Purchased With or Without tabs. Clip off tabs.
Illustrations are from the mouser.com catalog.

Plug from Box


Receptacle Replaces
Accessory Receptacle
Pin & Socket Connectors
3 CIRCUIT PLUG (buy 3)
Mouser Part #: 538-03-06-2032
Molex Part #: 03-06-2032
Male Crimp Socket (buy 9 + extras)
Mouser Part #: 538-02-06-2103
Molex Part #: 02-06-2103
Pin & Socket Connectors
3 CIRCUIT RECEPTACLE (buy 3)
Mouser Part #: 538-03-06-1032
Molex Part #: 03-06-1032
Female Crimp Socket (buy 9 + extras)
Mouser Part #: 538-02-06-1103
Molex Part #: 02-06-1103
Made up Wiring Ready for Connections (from Color Coded Diagram)
Option 2 Custom Vertical Through Pin Header Strip Shown in Place of Option 1 Pin & Socket Connectors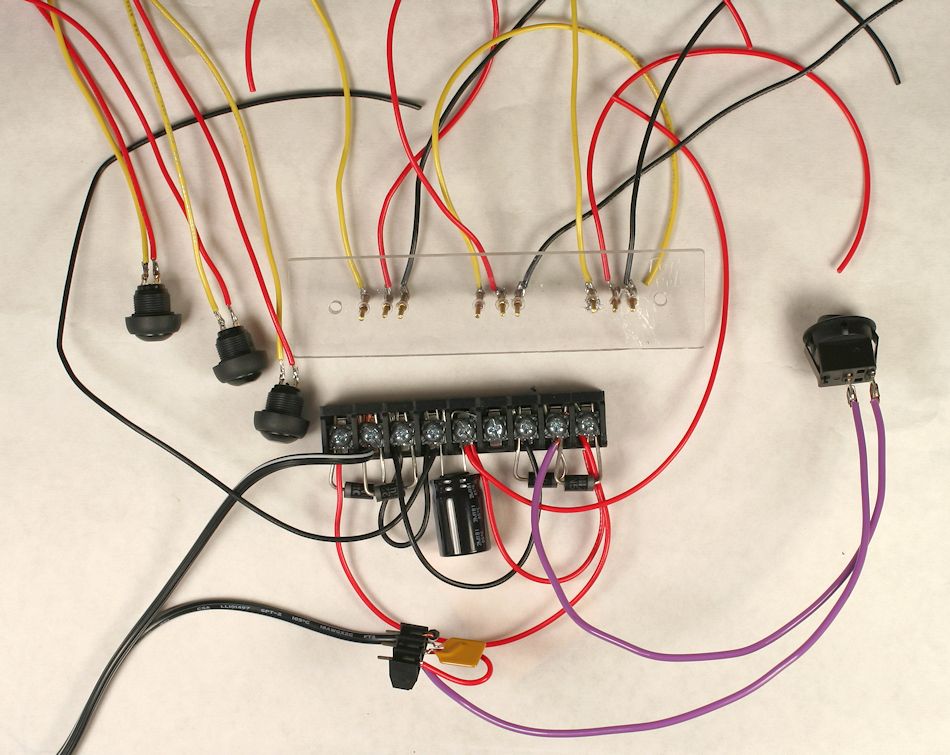 Switches and Option 2 Header Installed
For Option 1, the Wired 3 Circuit Plugs would be hanging out.
Wires to be connected are twisted together.
The screw clamp terminal strip is not attached to the box.

Wirenuts should have a twisted metal coil as shown in the ivory wirenut example indicated by yellow arrow. Wirenuts can be used safely in junction boxes. Gray wirenuts were used for yellow 2 wire connections.

Completed Controller
LABELS

Top Labels

SUBSTITUTE LIONEL CONTROLLER

for Steam Clean, Washer, Wheel Grind Shop

READ INSTRUCTION MANUAL PRIOR TO OPERATION

OPERATING VOLTAGE 12 TO 14 VAC

ALWAYS USE SMOKE FLUID (in Steam Clean)

ON OFF

WHEEL GRIND TRAIN WASH STEAM CLEAN

___________________________________________________________

Back Labels - AC Voltage In

←-----

Circuit is protected with a PTC Resettable Fuse.

When fault shuts off power, reset by disconnecting AC power, wait 30 seconds, and restore AC power.

___________________________________________________________

Bottom Label

(Lionel's Control Box Part # is 6102767123.)

Download Instruction Manual at

http://www.lionel.com/media/servicedocuments/71-2767-250.pdf

See Switch Label placement on Page 10 of Instructions.


___________________________________________________________
Test Electrical In and Out
Voltages: Test Input - 14 volts AC Test Output - Under no load 16 to 18 volts DC
Return to Operating Cars and Accessories
Questions? Please use to send an email.