Toy Train Layout Wiring - Switches, Page 1
Toggle Track Power Between Conventional and DCS or TMCC
These are the switch boxes shown on the Main Control Cart. The colors designate the track controlled by that switch. Tracks can be switched off, to Command, or Conventional. The red lights indicate if the tracks are powered.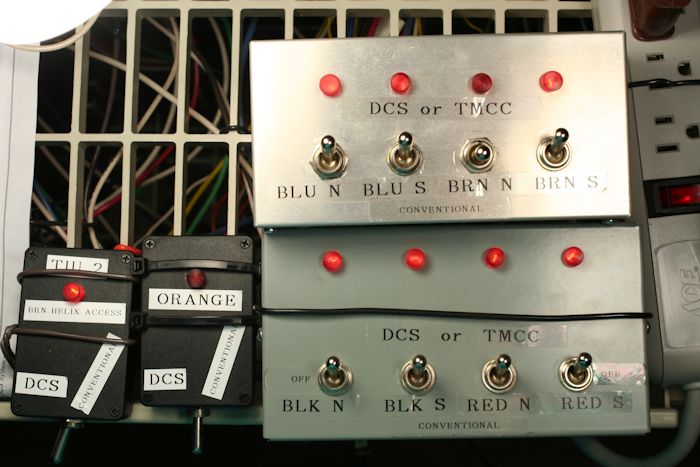 Switch in Center Position with No Power to Track
The blue wire ties into the PTC Resettable Fuse that allows power to the track. See diagram below. The red wire goes to the MTHDCS TIU. Lionel TMCC power, or Lionel Legacy power for Command Control. The yellow wire goes to any variable voltage ac power source. In the SSPRR Run Room the yellow wire would go to MTH Z4000s controlled by the Z4000 Remote allowing for Conventional remote control.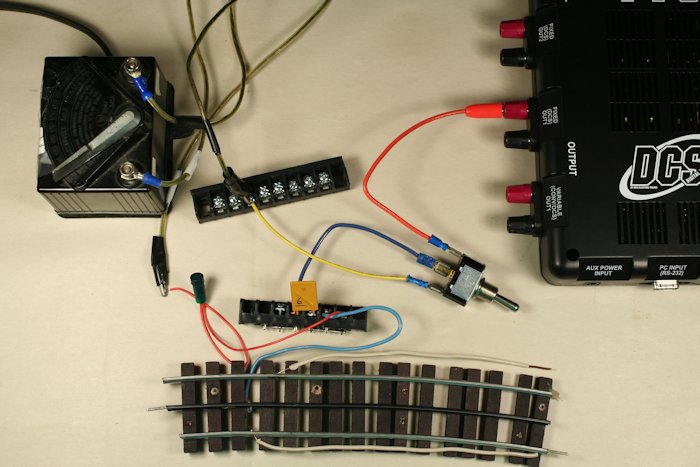 Switch in Conventional Position with Power to Track
The transformer is at about 16 volts and the green indicator lamp is On.
This is a 24 volt incandescent lamp with a green lens. The switch used is a Carling 15A-125VAC.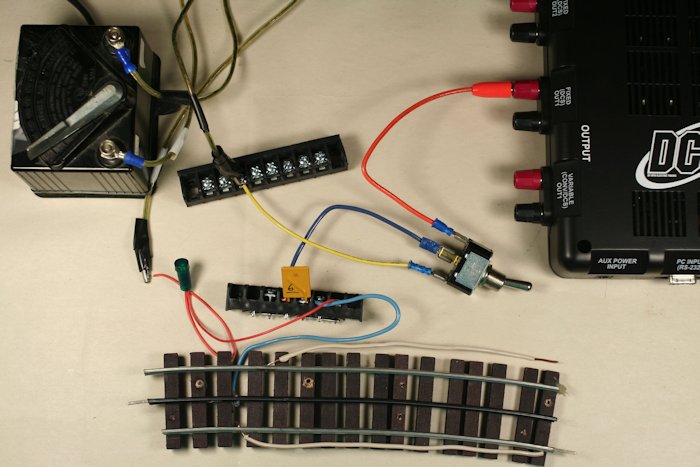 Choose the Illustration or Diagram that Makes Sense.
They both show the same wiring.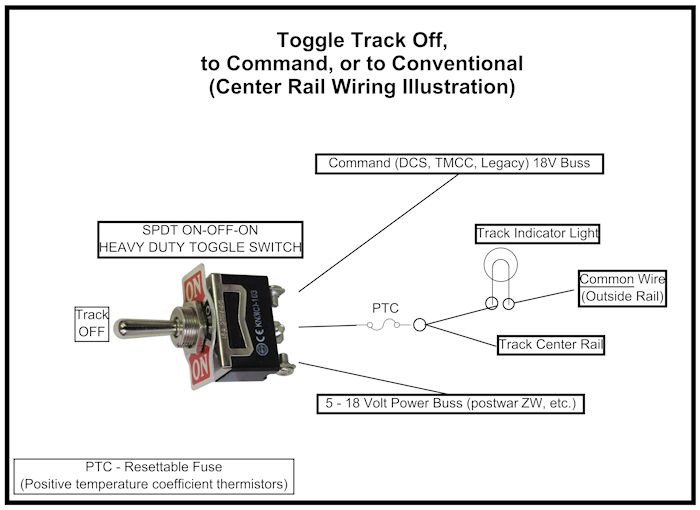 Alex Shared this Diagram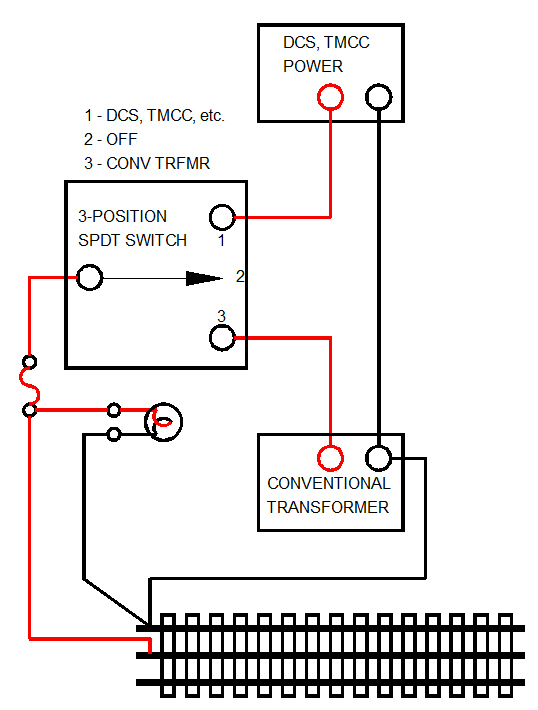 Control Box and Track Trip
Tools and Materials
Plastic project box, Unibit for easy drilling in plastic box, sponge to clean soldering tip,
soldering iron, 22 gauge wire, single pole switch, and dry wall screws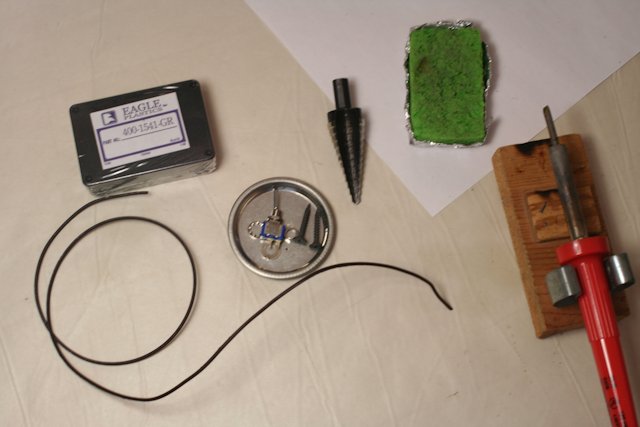 Solder is 62/36/2 solder 0.015" diam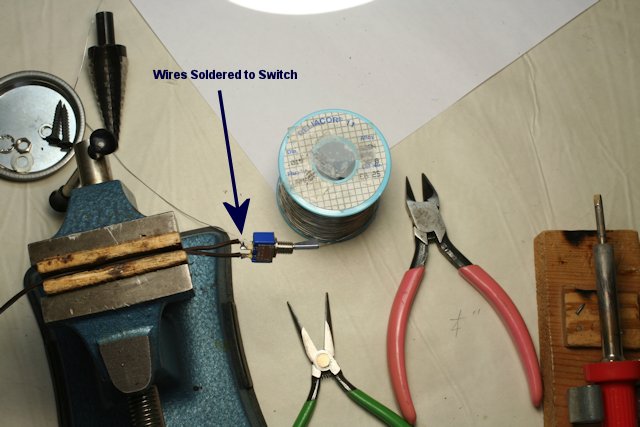 Switch Controls Power to Maiden Rescue
Simple on/off switch cuts power to prevent buzzing every time a train passes.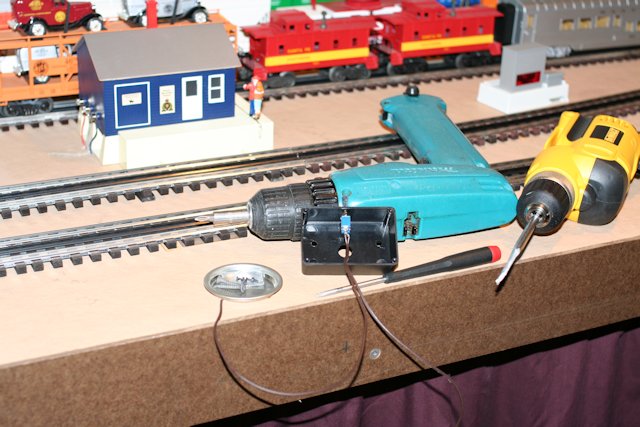 Drill big hole for wires through fascia and frame with a heavy duty drill motor and spade bit. Pre drill holes for dry wall screws to ease attachment.
Choose switches rated 3-6 amps 125 VAC for toy train duty. (one time installation)
When using a track trip, the common is switched, not the variable voltage.
This track trip material is 0.004" thick DuPont Kapton with .002" copper coating. The copper coating
is on a tough flexible insulated backing.
This DuPont Kapton is scrap from aerospace antenna construction.
For a track trip, super flex wire with fine strands is inserted in slot and soldered to the copper without harming the tough insulated backing.
The final copper strip is 1/4" wide and 5/8" long. Make hard crease or creases to fit the outside rail and secure with Scotch Permanent double sided tape. The tape prevents slipping.
This Track Trip is easy with
DuPont Kapton.

Metal axle and wheels
serve as the SPST switch.

| | |
| --- | --- |
| Question? Contact the SSPRR COO (Chief Operating Officer) using the email button to the right. (If email link is absent, please enable JavaScript.) | |
See Page 2, Access Bridges used as Switches or Return to 3 Rail O Gauge Toy Trains