Conventional or Remote Control - Page 1 of 2
Run Room tracks are set up with the option of running trains with Conventional Transformer control, Conventional Remote control, or Command Control with DCS or TMCC. The turnout controls and siding on/off controls are mounted above the tables so sticky fingers do not have easy access.
Conventional Control
Conventional Transformer control for the "Thomas Track" added around the Turntable tracks. The large layout is too overwhelming for children and they can have this area for simple running with a postwar ZW that has added bell buttons and short circuit protection.
Co-Installed Conventional and Remote Controls
The Track and Engine controls for the rest of the layout are installed on 2 tier carts that roll under the tables and hide behind the table skirts. The Main table cart is below and holds one postwar Lionel ZW for accessories and turnouts, one MTH Z4000 with remote receiver box for Conventional remote control, 2 postwar Lionel Zs for track power through MTH TIUs, and 2 MTH DCS TIUs for controlling engines, turnouts, and accessories. The 2 DCS TIUs power 8 areas of track. TIU 1 is linked to 3 AIUs that allow wireless remote control of the Ross Switches.
The Run Room Remote Control is mainly through the Mikes Train House MTHDCS system.
See MTH 50-1001 DCS Remote Control Set Manual .
A few accessories and track vehicles are controlled through Lionel's 6-12969 classic TrainMaster Command Control set. See Complete Manual for TMCC.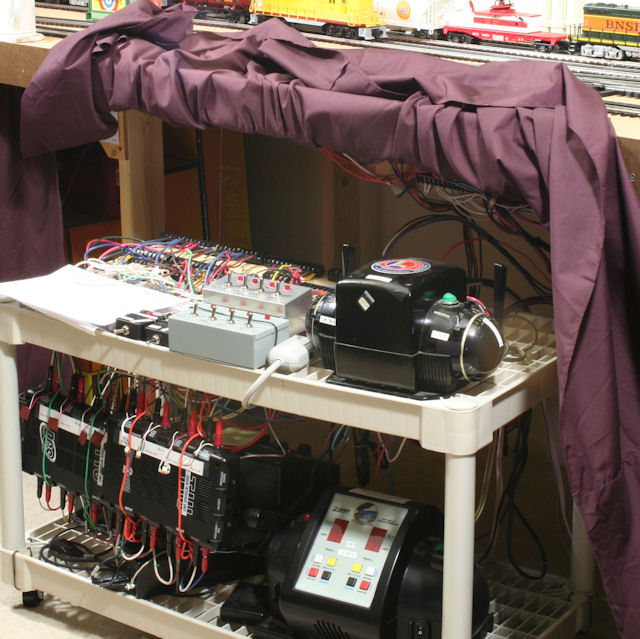 MAIN CART TOP BELOW- The metal boxes below have lights indicating "track power on when lighted". The SPDT center off toggle switches change track power between DCS/TMCC and Conventional (Z4000) control. The two small black boxes are for TIU feeds from the Ceiling Cart. (See Box switch wiring.)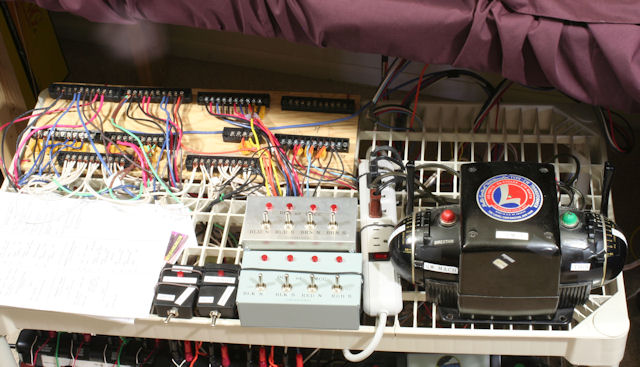 MAIN CART BELOW - The small transformer on the lower left feeds the TMCC signal box. All Control Carts need plug strips with on/off Switches.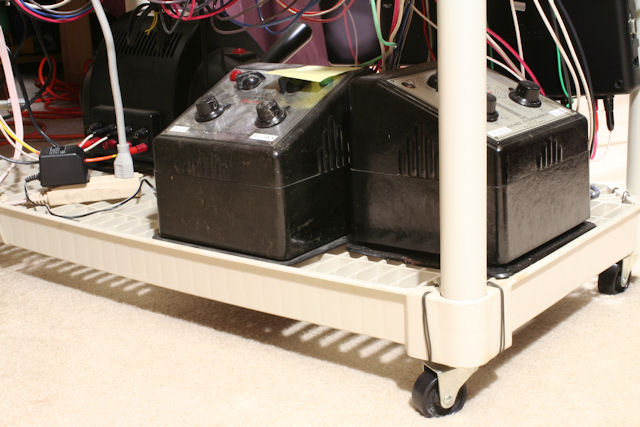 The MAIN CONTROL PANEL below is located above the table for easy access since it controls turnouts and track power. The wiring is color coded according to track color.
The Z-Stuff control buttons are attached with foam double sided tape and switch mostly pairs.