Four Level Track with Helix Access
The Run Room helix is double tracked and the inside loop track is isolated as upper and lower sidings. See helix construction information below.
In the above photo from the bottom up, the Classification Yard is on the table to the left, the Bottom Stub Track is on the wall to left, the Top Stub Track is above that, and the Ceiling Track is between the Top Stub Track and the ceiling. The helix provides access to and from all track.
SSPRR Run Room Helix Construction
The Run Room table heights are 36" (based on head room I need when sitting under the table to do the wiring.)

Gargraves Phantom track and Ross Custom Switches are used. The ascending tracks, wall stub siding access tracks, and individual circles with turnouts were designed with RR-Track software.

The maximum grade on the helix is 2.3%.

The approach track ascends from the table to the point at the south end of the room where the helix starts circling 10 ½" above the table. From that south point there are 3 ¼ complete circles and a straight along the east wall to meet the ceiling track for the rest of the rise of 30 ½".

The Total Rise, with the approach track from the table and exit track to the ceiling track, is 41".
The ascending track from table to helix is mounted on 3/8" plywood supported by varying heights of 3/4" pine, 2 X 2 posts, angle brackets and water pipe with threaded rod.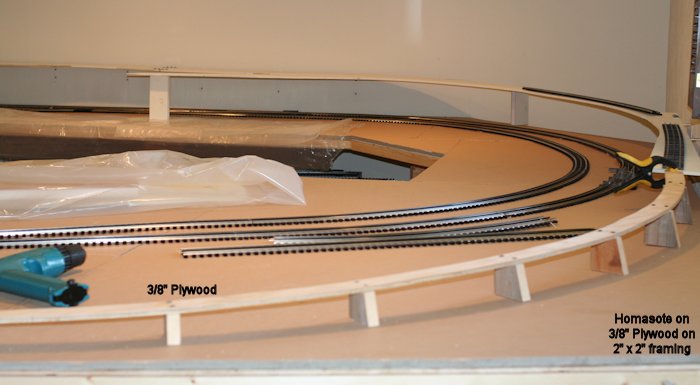 The helix (triple spiral) structure is made of 1" thick Gatorfoam, and supported with 3/16" threaded rod. 1/2" plastic plumbing pipe covers the threaded rod.
The outside track radius is 5' and the inside track radius is 4' 6". The Gatorfoam base outside edge radius is 5' 4 1/2" (inside edge radius 4' 3").
To lay out the circles use a ¼" x 3" x 6' long piece of plywood with holes in it for a compass. The Gator Foam was cut out with a good sabre saw with a medium wide plywood blade. The Gator Foam has a crisp outer coating and the edges are easy to sand smooth with a sanding block.
The Gatorfoam 3 1/4 circles hang from 3/4" plywood circle anchored to the ceiling joists
Gatorfoam tops and bottoms are painted with a roller before hanging.
Edges and pipe are unpainted.


The interior post structure is pictured below.



Inside and outside steel plates with nylon lock nuts join Gatorfoam sections.
| | |
| --- | --- |
| | The "roadbed" is indoor/outdoor carpet glued to Gatorfoam. Track Screws were tipped with white hobby glue before driving. |
Hardware List Follows Photos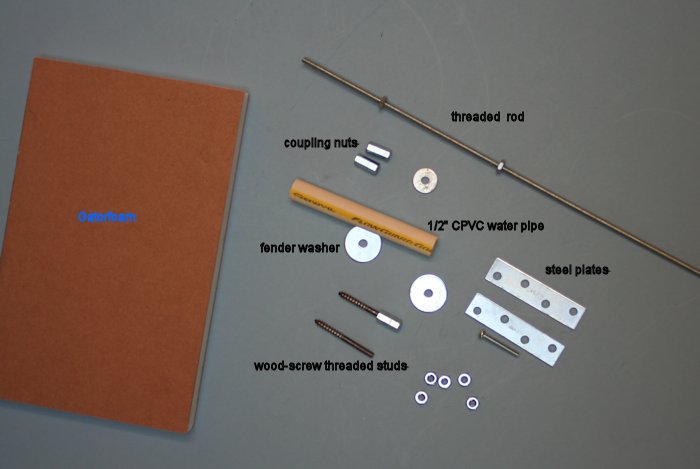 Left - Helix post structure




Below - Two sets of steel plates with nylon lock nuts join Gatorfoam parts.

Preliminary Elevation "Ladder"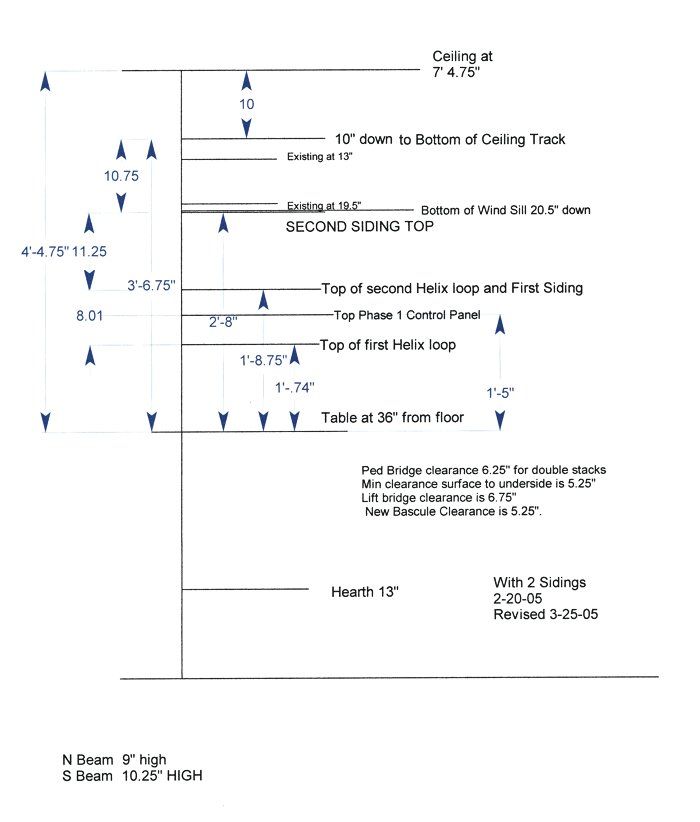 CONSTRUCTION MATERIALS
Hardware is From Order List
Gatorfoam - The ceiling track and helix track base is 1" thick Gatorfoam - Gatorfoam is an "extruded polystyrene foam board bonded between two layers of Luxcell® wood-fiber veneer". Gatorfoam's crisp top and bottom with dense core leave edges that are easily sanded smooth with medium sandpaper on a sanding block.
60 3/4" x 3" long zinc-plated steel plates with 4 holes for #8 screws
30 L Bracket s 1 1/2" long each leg
250 8-32 rhms w phillips head 1 1/4" long
200 8-32 hex nuts
200 1/8" x 1" Fender washers
50 flat phillips head 3/4" long #6 (tapping or similar for wood)
50 washers for above
35 10-24 x 3' long threaded rod
100 3/16" x 1 1/4" fender washer
150 3/16" x 5/8" washer
50 10-24 toggle wing
100 1/4" washer
75 10-24 locknut with nylon insert (plain
150 10-24 hex nuts
25 10-24 2" long Headless Hanger Screws (wood-screw threaded studs)
25 10-24 Coupling Nuts
10 10' lengths of 1/2" CPVC water pipe
| | |
| --- | --- |
| Question? Contact the SSPRR COO (Chief Operating Officer) using the email button to the right. (If email link is absent, please enable JavaScript.) | |