Postwar and Modern Steam Engines
Steam Engines - Lionel
#18716 Lionelville Circus General Steam 4-4-0 circa 1991 - This "shelf queen" and consist of circus cars is waiting for a modern circus engine with MTHDCS electronics.

#8309 Southern 2-8-2 (FARR Set #4) circa 1983

Steam Engines - Mike's Train House
See MTH engines that have been upgraded to Protosound 2.
#20-3383-1 2-3-1 Pacific Steam Engine w/Proto-Sound 2.0 (Hi-Rail Wheels) - Engineering Edition
Proto-Scale 3-2T 3-Rail/2-Rail Conversion Capable
See improvements made for 3-rail operation.

#30-1590-1 4-6-0 Ten Wheeler Steam Engine w/Proto-Sound 3.0
The engine and tender have one pickup roller each.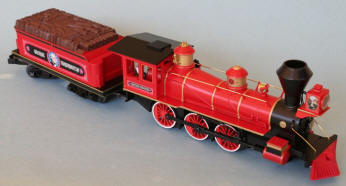 Questions? Please use to send an email.