2316 Operating Gantry Crane - 1983, Page 1
Add guide spanner to keep hook string between guide posts.
Lionel's 6-82097 - Bucyrus-Erie Command Control Gantry Crane has a similar spanner/guard.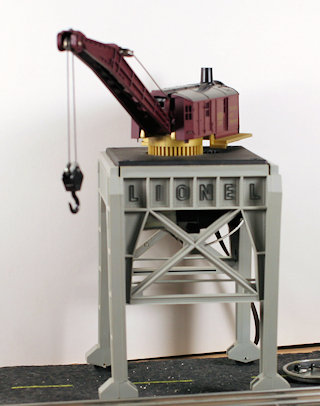 This reproduction 282 Gantry Crane without magnet needed a tune-up/operating improvements.

Existing Materials Used for Hook Guide Spanner were:
A scrap of gray Plastruct sheet - 0.062" .060 ABS SHEET
Silk straight pins from sewing room
White graft glue
| | |
| --- | --- |
| To detach cab, unscrew and remove boom elevating screw assembly. Remove cab by pulling bottom front sides of cab away from the Cab Lock tabs and lift off. | |
| | |
| --- | --- |
| Punch guide holes to start drill bit. | Drill holes for straight pins. |
Mark the gray plastic for cutting and drilling spanner.

Test fit the spanner to holes.

Measure surplus to be cut off straight pins.

White craft glue dries clear and soft.
Glue spanner and secure with straight pins.

Test run motors and operation.
My tests indicated the controller
needed repair.
See Controller Repair.
Completed Crane Upgrade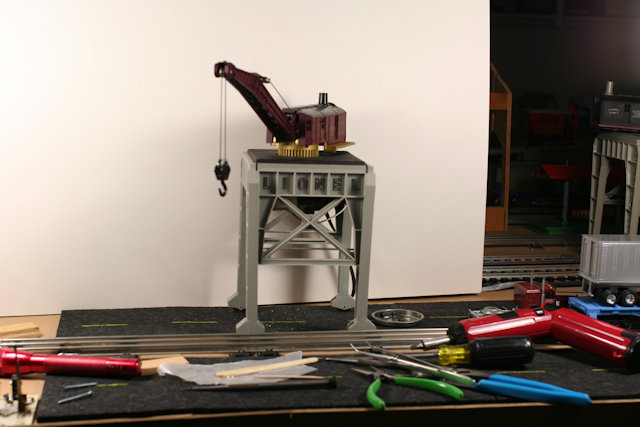 See 2316 Operating Gantry Crane - 1983, Page 2 to build Replacement Controller.
Return to Operating Cars and Accessories
Questions? Please use to send an email.