Circuit Protection for Toy Trains -
page 2
Shock and Fire Hazards with Toy Train Transformer Power


The 110 V from the wall plug to the attachment inside a transformer can kill a person or a pet.
(Have a bad cord replaced. Unplug cord before opening transformer. Transformer repairs should be made by an experienced technician.)

Overheating due to faulty wiring or contact rollers inside a transformer with a bad

interior circuit breaker

can burn down your house or building.

Test a Transformer's Circuit Protection
Test Examples
MTH Z4000 built 1999 to 2001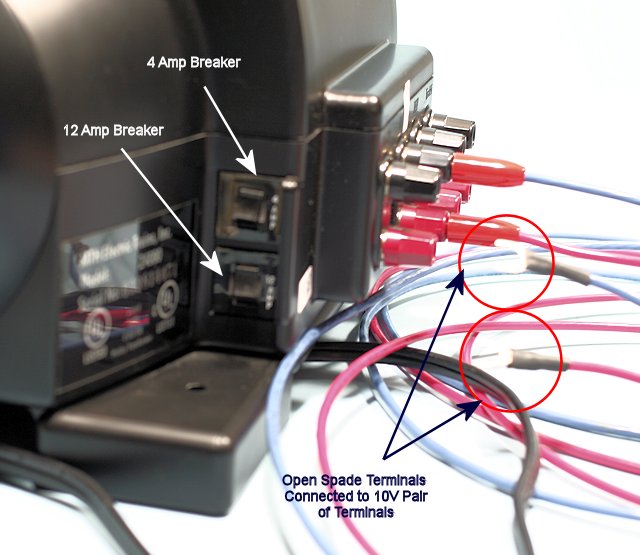 The Z4000 has four separate circuits that should be tested. There are two variable voltage circuits protected with fault sensing and a 12 amp breaker for each circuit. There is a 10V and 14V fixed voltage circuit with each protected by a 4 amp breaker.
Turn on the Transformer. Test each fixed voltage circuit by shorting across the red and black contact pair. The breaker should pop within one second. When fault is cleared the breaker can be reset.
Test the variable voltage terminals. Turn on the Transformer. Advance a handle to 14V. Hold the short across the corresponding black and red contacts. The red light will blink for 8 seconds then the interior fault sensing will shut the voltage off. The 12 amp breaker may only trip under overload. Shorting across the terminals does not trip the 12 amp breakers.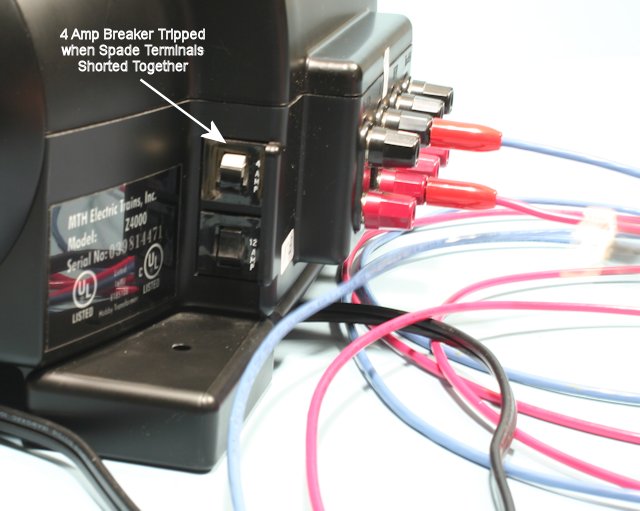 | | |
| --- | --- |
| Test the Lionel 1033 breaker by shorting across the U and A terminals. Advance orange knob to full voltage. Plug in power and stand by to pull plug. The breaker should trip within 5 seconds. | Test the Lionel 1025 breaker by shorting across the two terminals. Advance knob to full voltage. Plug in power and stand by to pull plug. The breaker should trip within 5 seconds. This transformer has a bad breaker. After 5 seconds it just clicks and does not trip the breaker. |
| | |
Test the Lionel ZW on the left and the Lionel Z on the right.
All of the top terminals are tied to a common strip internally. There is one 15A breaker in each transformer
Short across any good U terminal and an A, B, C, or D terminal. Advance the corresponding A, B, C, or D knob to 14V. Plug in power and stand by to pull plug. Breaker should trip within 1 to 3 seconds.
---
Replacement Circuit Breakers for Lionel Postwar Transformers
Thermal Electromechanical
Momentary shorts will not trip these breakers.
Breaker Stash from Parts Box
These were purchased from reliable toy train parts dealers in about 2001.
---
Z Breaker with Spade Lugs Attached
CA-15 9438 for Z and some ZWs with Thermostatic Material
---
ZW Modern Substitute
MAXI 19115-05P 12V F17 15A
This is a stock breaker in a custom bracket for side mounting.
---
Alternate ZW Modern Substitute - Bottom Mount
Buss 22210-000 14VDC 10 A M39
This is a stock breaker in a custom bracket for bottom mounting.
---
Modern part numbers and sources for replacement postwar breakers vary from month to month. Surplus sites occasionally have breakers that will meet Lionel's postwar requirements. An internet search may yield breakers closer to the ratings and requirements listed below.

The best replacement breakers are probably at Toy Train Parts Dealers. Check with you favorite dealer or do a web search for "Lionel Z transformer breaker" to find the Toy Train Parts suppliers with replacements.
Ratings and Requirements for Replacement Lionel Postwar Transformer Breakers
Breakers should be rated at a minimum of 30 Volts AC.
and a maximum of:
15 Amps for Model Z 5 Amps for Model 1033
14 Amps for Model ZW 4.5 Amps for Model 1042
8 Amps for Model VW 4 Amps for Model 1032

Breakers should be automatically operating, normally closed, open when overheated, Type 1 (auto reset when fault is cleared), and fail in the open position.
Note the last breakers in the above photos are rated for 10 V and 14 VDC respectively. If a replacement breaker is rated less than 30V AC it should at least be rated Heavy Duty. The amp ratings must be rated at or below Lionel's postwar requirements.
See in depth transformer information on this website - Tranz4mr's Home Page
Questions? Please use to send an email.