Lionel No. 32910 Rotary Coal Tipple
This item was purchased in 2002 and installed in February of 2008.
Installation and Operation
The Tipple is installed on a siding that rises to the desired track height.
The top of the center rail is 7 3/8". This allows clearance for the track to the left.
A couple of changes were made to Tipple to adapt to my layout.
Tipple track is wired to 18 volt track voltage. (Required for DCS & TMCC)
On/Off switch and Momentary Switch added. Car sensing pressure switches were bypassed (one switch bad out of box).


Photos below show some of the inner workings of the Tipple.
Tipping Position showing added wire out of back for 18 volt track power
Tipple with Walkways Removed. (The four small plugs at each corner of the walkway must be pried up with a fine scribe or similar to remove the walkway mounting screws.)
Electrical Controls and Motor behind back cover
Left sensor switch was bad.
The alligator clip acts as heat sink when soldering bypass wire.
Car sensing pressure switches were bypassed with the grey wires between contacts.
Detail Photos
Input Pinion Gear Repaired (added April 2013)
SG's tipple quit and he shared his repair information and photos.
The motor ran, but the gearbox output drive shaft to the big drive wheels didn't turn.

The input pinion gear on the motor shaft was split and rattling around in the gear case. To repair, remove the motor and dump the broken gear pieces out of the gear box at the motor shaft input hole. The gear box does not need to be opened.

A replacement gear was not readily available so SG epoxyed the input pinion gear with black golf club shafting epoxy and it's holding.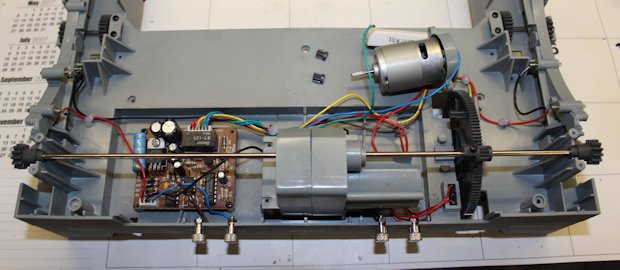 Bottom of SG's Tipple with Motor Removed and Broken Gear
Questions? Please use to send an email.