Lionel Sweeper Cars
Featuring Sweeper cars in this consist: Blue 36738, Black 19822, Brown 9221, and Yellow 16739

See Consist Action Video. The first sweeper car (36738 Blue clucking as seen in Catalog Vol.2 2003) starts clucking when the door opens.
Consist in order of appearance:
MTH 20-2082-1 UP FM H-10-44 Cab #1304 with PS2 Upgrade
Lionel 9301 Operating US Mail Car (made years 73-84)
Lionel 52407 LCCA Gunpowder Car w 3 Vats W&ARR Vat Car (built 2006)
Lionel 52415 TCA Kid's Club Sheriff & Outlaw Car, 2007
Lionel 26791 LCCA D&RGW Chase Gondola w Prospector Thief, 2005 # on car 2016
Lionel 36738 Blue clucking Fresh Eggs Texas & Pacific Poultry Dispatch Car Vol.2 2003
Lionel 19822 Black Operating Pork Dispatch Car 1995
Lionel 9221 Brown Operating Poultry Dispatch Car 1983
Lionel 16739 Yellow Warner Bros. Foghorn Leghorn Poultry Car "6434", 1996
Lionel 16662 Operating Bugs Bunny & Yosemite Sam Car, 1993
Lionel 16737 Warner Bros. Road Runner & Wile E. Coyote ACME Gondola "3444", 96
Lionel 16674 Pinkerton Animated Gondola, white lettering, 1994
MTH 20-9100 UP Extended Vision Caboose, 1996 Car# 25214
Repair Sweeper Car Action
The sweeper action broke on three of my earlier Lionel sweeper cars shown below. The rubber band and music wire was replaced with 0.002" diam. gold plated tungsten wire (from scrap box). See information following sweeper car photos for alternate Repair Assembly that is similar to the blue #36738 car action.
6-19822 Black Operating Pork Dispatch Car 1995
(originally w rubber band for sweeper motion)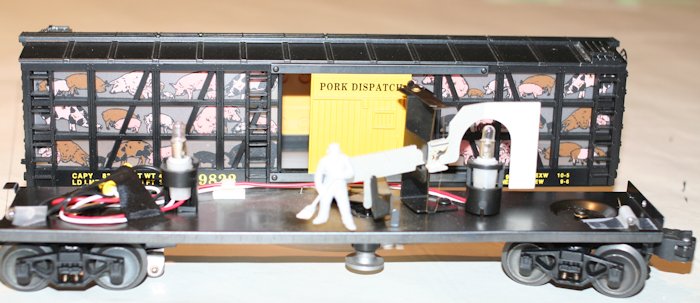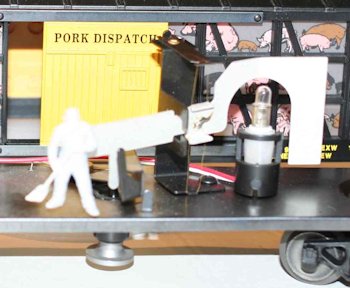 6-9221 Brown Operating Poultry Dispatch Car 1983
(originally w tungsten wire for sweeper motion)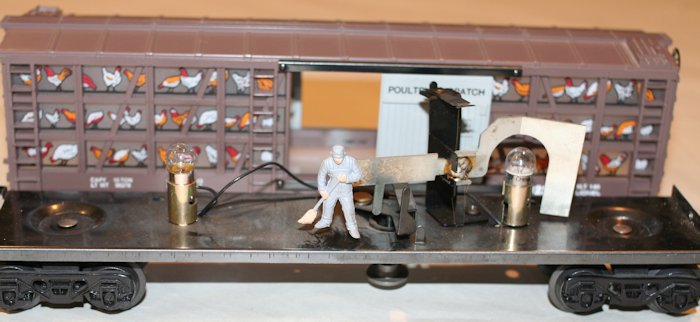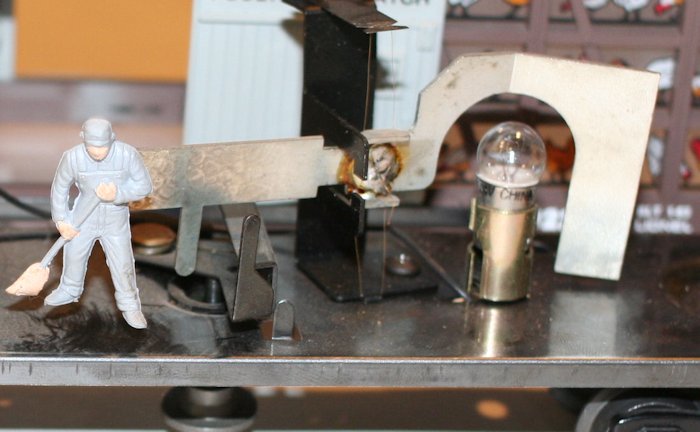 The dab of solder holds the wire in place.
The red lines show the lacing of music (tungsten) wire.

Find the correct tungsten wire by searching on line for:
"tungsten wire 0.002" then go to "scope crosshair repair wire 0.002") for short lengths instead of buying big spools for mega bucks.

One foot of wire per car will be plenty. Wire will break so take care when lacing and securing the wire. Test operation before soldering.
3434-9 Figure Wire Fixture Jig (KM posted on line February 3, 2017)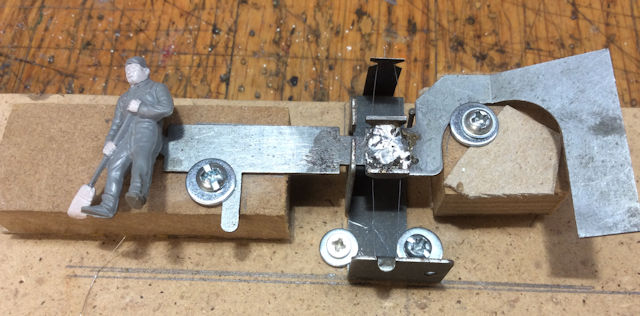 6-16739 6434 Foghorn Leghorn Poultry Car 1996
(originally w rubber band for sweeper motion)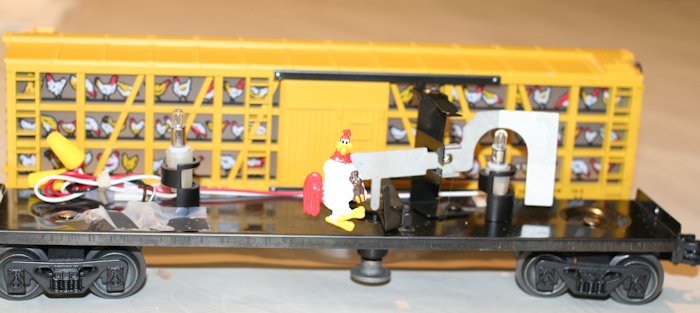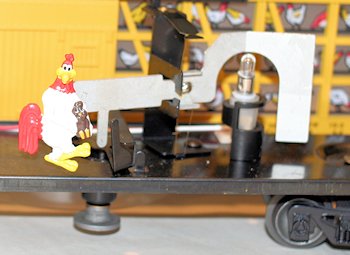 ______________________________________________________________________________________________________
Lionel's New Swing Lever Mounting Parts for Sweeper Motion
Formerly Available from North Lima Trainworks
(Bracket assembly #630-6738-004 or #6306738004)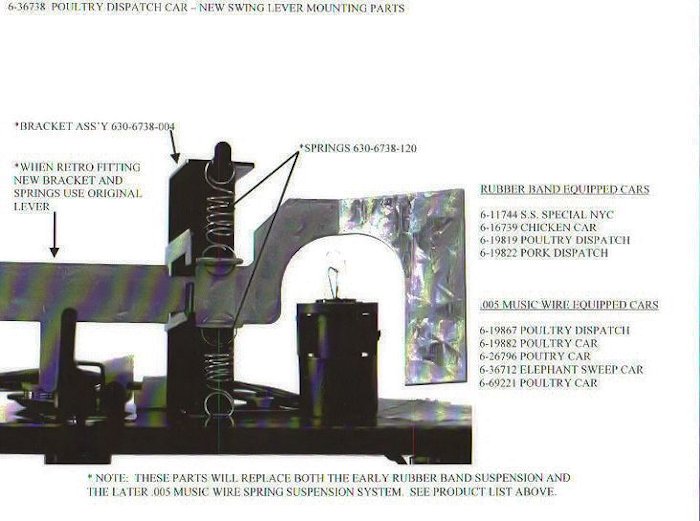 When Lionel Parts Search refers you to North Lima Trainworks, call them if their website isn't working.
Lionel's Sweeper Car Exploded Parts Diagram
Return to Operating Cars and Accessories
Questions? Please use to send an email.