Lionel Chase Cars
16674 Pinkerton Animated Gondola, white lettering, 1994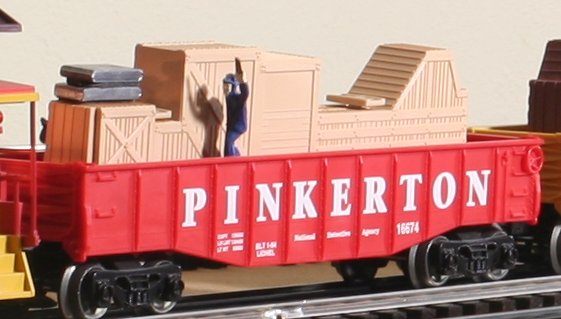 The lead wheel balancing weights over the truck withe the Drive Spur Gear were placed to enhance the chase action.
Repair Chase Car Action
| | |
| --- | --- |
| When the teeth are worn off the Drive Spur Gear the chase stops. | |
See the (6-16674) Animated - Pinkerton (red) and Circus exploded diagram and parts list at lionel.com . Lionel lists "6106628055 DRIVE SPUR GEAR MLD CELC (#20 on diagram) $0.30 Available from North Lima Trainworks". (When Lionel Parts Search refers you to North Lima Trainworks, call them if their website isn't working.)
Repair Sequence
Carefully remove Crate Load and Belt Assembly.
| | |
| --- | --- |
| Set up Rivet and Wheel Press to punch out Pulley Stud 610-6628-095. | Punch to release Drive Spur Gear |
| | |
| | |
| --- | --- |
| Truck moved over and old gear removed | Pulley stud with pulley spool loose |
| | |
| | |
| --- | --- |
| 1 | 2 |
| New gear assembly sequence 1, 2, and 3. The Rivet and Wheel Press make this an easy job. | 3 |
| | |
| --- | --- |
| Question? Contact the SSPRR COO (Chief Operating Officer) using the email button to the right. (If email link is absent, please enable JavaScript.) | |